We will not be organizing our traditional breast surgery course during June 2016, as we have decided to unite all our efforts to organize a "mega" course in Milan, on March 21st and 22nd, 2017.
The programme will be composed of two full days of live surgery (from 8 am to 6 pm) using two or three operating rooms in order to cover all the surgical techniques in breast cancer treatments including breast reconstruction and aesthetic surgery.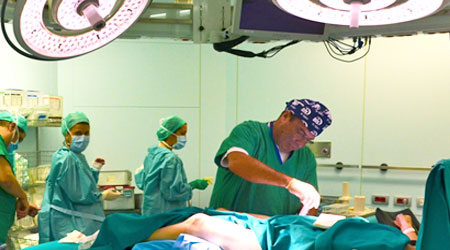 Sentinel node biopsy and axillary dissection.
Conservative breast cancer surgery and bilateral oncoplastic reshaping
Nipple sparing mastectomy and immediate breast reconstruction with implants or tissue expander.
Immediate breast reconstruction with implants and ADM.
Delayed breast reconstruction with implants
Tissue expander replacement and nipple and areola reconstruction.
Reduction and augmentation mammaplasty
Poland Syndrome treatment.
Mastectomy and implant reconstruction in robotic technology.

new entry!

Lymphaticovenous anastomosis for lymphedema treatment.

new entry!